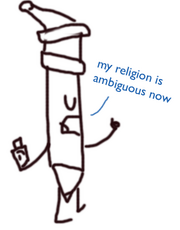 Even though it's not Christmas where I'm standing, it's already Christmas Day in Kenya, and that's early enough for me to wish all of you wiki-seekers a Merry Christmas.
It's also the third night of Hanukkah, and Saturnalia has just ended, Kwanzaa and Boxing Day are well to begin in two days, etc. etc., so if you're celebrating those festivals (or a combination of any of them), a Happy Holidays to you too.
So what's to become of the future of this website? Well, I'm working on a new episode in the new series, a sequel to "Date Knight" if you will. It involves the Schreibers joining a family-themed game show while Saye must pass an entrance exam for an elite school.
Community content is available under
CC-BY-SA
unless otherwise noted.