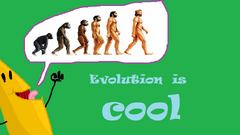 Evolution is cool is the 2nd episode of the season 8 of Pencil 2.O.
Pencil teaches evolution of the objects to her alliance.
Transcript
Edit
Pencil : I wonder what are my ancestors?
Bubble (as the narrator of a time card) : 10 hours later ...
Pencil : This time machine looks cool!
*back to 50 billion years before Jesus-Christ*
Pencil : Where it is? Oh! God fucking Damnit! I forgot that those fishes are in that water!
*cuts to underwater*
Trilobide[char tag?] : I hate that form! I'm going to change to a fish!
*the trilobide turns into a fish!*
Fish[char tag?]: GOSH!!! What's that?
Pencil : Nice to meet you fish!
*Fish swims away while screaming as Pencil gets out of the water*
Pencil : And viewers, don't realise that i'm the first guy to get out of the water!
*Intro playing*
Learning ancestorsEdit
P
e
nci
l
:
So, we've got Match, Pen, Aristotelis, Bubble, Eraser, Estigua, Needle, Ruby, and Leafy; Everyone is here! So first, we are trilobites, then fishes, dinosaurs, squirrels, monkeys and finnaly, objects!!!
Eraser : That's all? Really?
Pencil : Yeah!
*Eraser slaps Pencil*
*End credits play*
Community content is available under
CC-BY-SA
unless otherwise noted.